Our Pink Zebra 12 Days of Christmas Exclusive Holiday gift box set is Perfect as it is or divide it up and add a simmer pot or 2 for multiple gifts. I love this set! You can order 3 of our Frosted Flurry Simmering Light warmers and divide the gift set up and have 4 different fragrances to pair with each warmer and you have the perfect Christmas gift for your best friend, mom, sister, daughter inlaw, even the guys will like this one!!

In this gift box you get these 12 exclusive scents.
Day 1: Cookie Dough Bliss: Homemade cookie dough with a festive twist of dreamy amaretto.
Day 2: O' Christmas Tree: Enlighten your Holiday's with fresh green pine, fir balsam and patchouli.
Day 3: Peppermint Swirl: Frosted joy of sweet peppermint with undertones of creamy vanilla.
Day 4: Salted Caramel Drizzle: Salted golden caramel with drizzled toffee, maple butter and warm vanilla.
Day 5: Winterberry: Shimmering notes of blackberries, red currant & dark woods.
Day 6: Creamy Hazelnut Rum: A silky blend of golden hazelnut rum, vanilla cream and maple butter.
Day 7: Frosted Fruitcake: Fruity, sweet, cinnamon cake topped with vanilla buttercream spread.
Day 8: Sugar, Spice & Everything Nice:Aged bourbon, spiced vanilla, and spearmint swirled with decadent milk chocolate.
Day 9: Morning Mimosa: Sugared citruses burst with hint of bright pink fruits and berries.
Day 10: Feelin' Frosty – Fire Tree & Mint:A magical snowfall of frosty air is complimented wit cooling notes of eucalyptus.
Day 11: Warm and Cozy – Amber & Wood:Oriental amber warmed with comforting white musk and a hint of nutmeg.
Day 12: White Chocolate Truffle: Rich white chocolate – creamy and delicious.
Each 3.75 oz. Bag is perfect on its own or for blending! Happy Holidays! www.pinkzebrahome.com/dianapence/shop.asp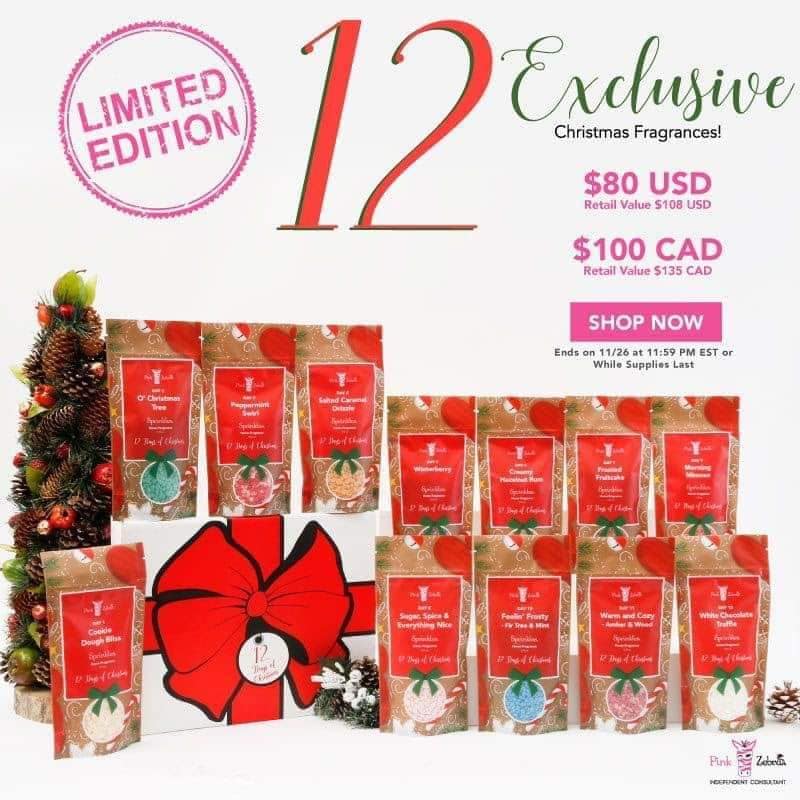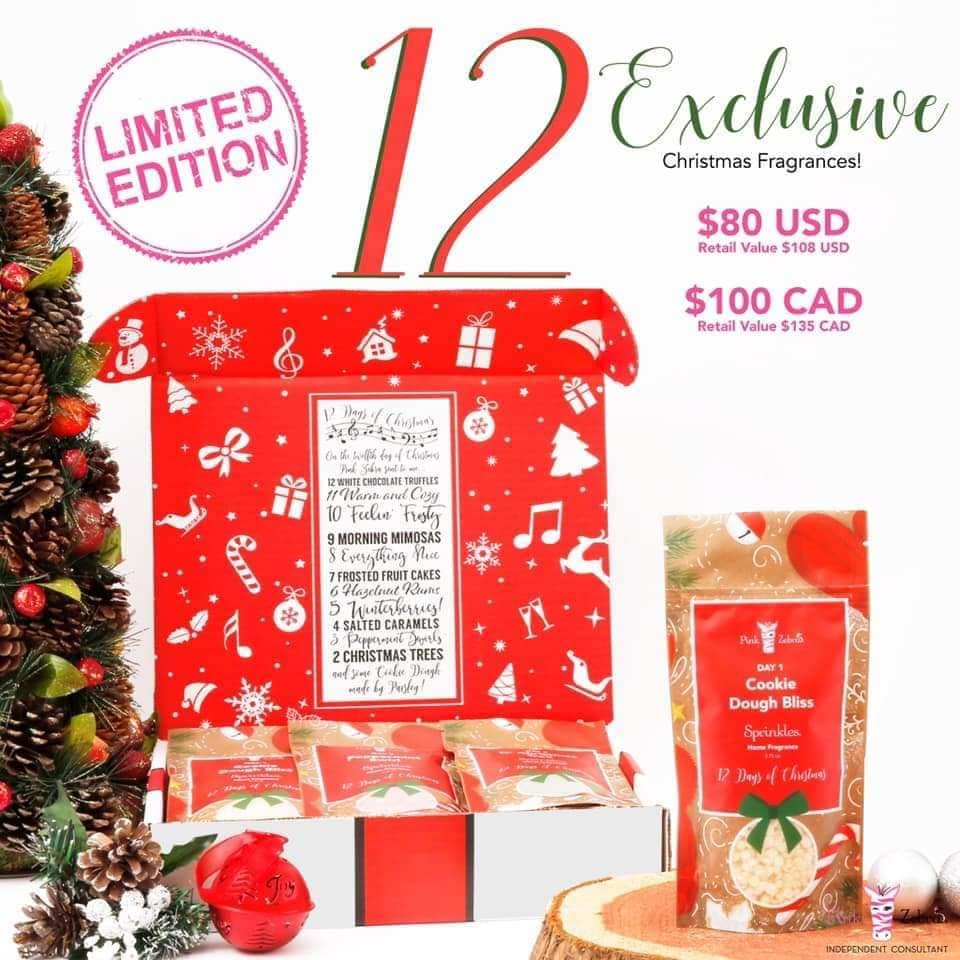 #MakeYourFriendsHousesSmellGood #GetOneForYourself #gifts #christmas #homedecor #homefragrance #caramel #cookiedough #peppermint