A Fun Pink Zebra Sunshine Warmer Special, how cute is this?? There is no doubt about it, MOMS are the sunshine even on our cloudiest days!☀️ This vibrant, sunny yellow Simmer Pot is the perfect gift to show your mom how much sunshine and happiness she brings to your life. The charming Simmer Pot comes with an exclusive FREE Jar of Radiant Blooms Sprinkles. It features bright, sweet notes of orange, peach, pear blossom, vanilla flower, and geranium. This darling set is sure, to brighten mom's home and heart! 💝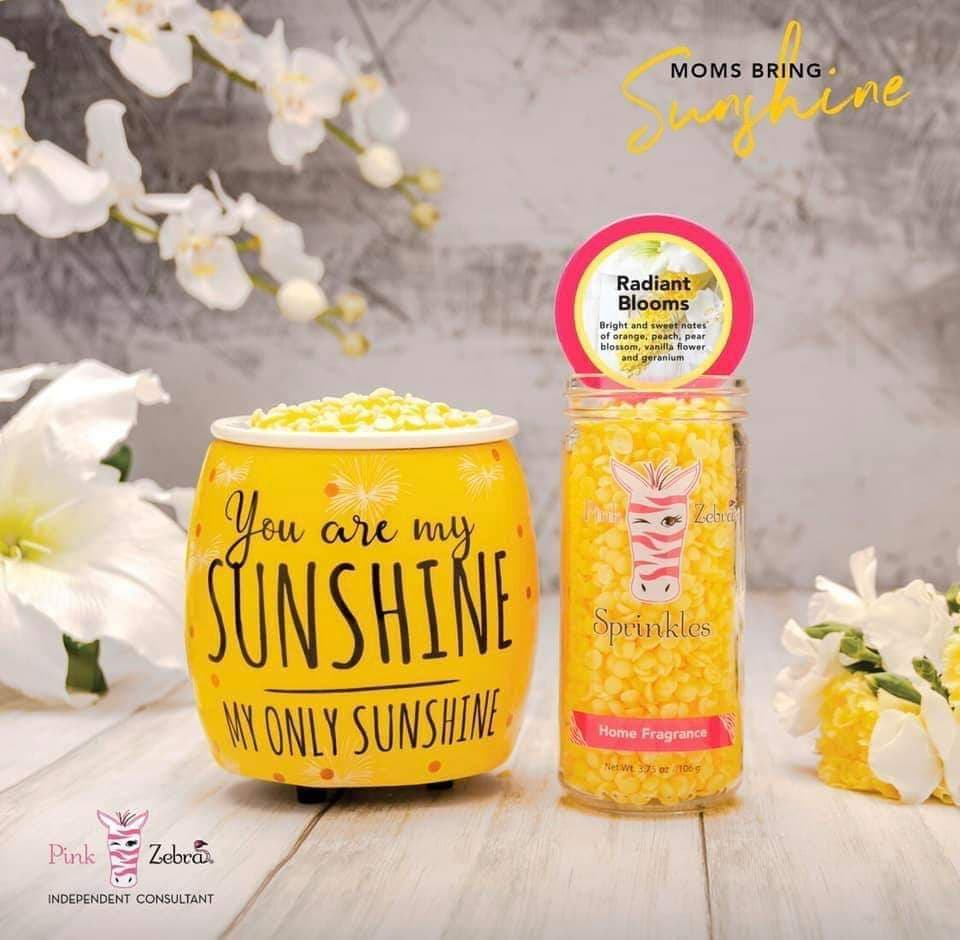 You are my sunshine! Bright and sunny yellow, this Simmer Pot is the perfect gift for Mom or anyone who brings sunshine and happiness to your life. Everyone loves details so here it is: This adorable Simmer Pot measures 4.5" h x 3.5" in diameter. It comes with an exclusive 3.75 oz. jar of Radiant Bloom Sprinkles and is $35 for the set.
Radiant Blooms Sprinkles: Bright and sweet notes of Orange, Peach, Pear Blossom, Vanilla Flower, and Geraniums.
Check out the combo below ~ Our exclusive Sunshine Warmer and sprinkles but look what you can add to it to make it a complete bundle. Although it may be cold outside inside with our Citrus Air Care and Lemon Pound Cake Sprinkles added to your warmer you will be dreaming and smelling the fresh scent of spring right around the corner. But adding any two jars to the combo will get you Free shipping!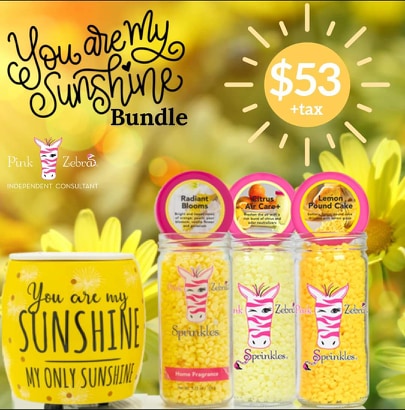 How to Order Your Warmer
This bright and sunny warmer will bring back the memories of you or someone special to you singing the beloved song. I know I sang it to each of my kids when they were little. So Spread a little sunshine with those you love by heading over to www.pinkzebrahome.com/dianapence/shop.asp and pick up a couple of gifts and don't forget to get one for yourself!
Diana 🙂