Pink Zebra – Party Selling Business for People Who Work From Home
Pink Zebra's founders, Tom and Kelly Gaines, met while working for a candle manufacturer 15 years ago, where Kelly was in Marketing and Tom involved in sales. Taking their incredible experience in the candle and fragrance industry, they knew they could create fun, unique and high quality products for customers. After much consideration they decided to pursue the dream of owning their own business.
Like most new business ventures, it was not easy. The business began in their home with no employees, a large credit card debt, and a strong will to succeed. Within eight years they, along with the help of their incredible family of employees built a company strong enough to purchase one of the largest candle manufacturers in the U.S. During the past eight years Tom and Kelly's mission has been to connect with the consumer directly. This year they will accomplish their quest by sharing these products and the business opportunity directly with people all over the United States through Pink Zebra.
Pink Zebra Factory Throughout the years, our manufacturing facility of Pink Zebra has become an impressive and ranked US Candle factory, producing thefinest home fragrance products in the world. A part of Pink Zebra's mission is to change your fragrance and change lives. This will be provided through our consultant business opportunity and through all of our hosts and customers. To look back in twenty years and say that Pink Zebra helped change lives by helping families everywhere is the dream of the founders.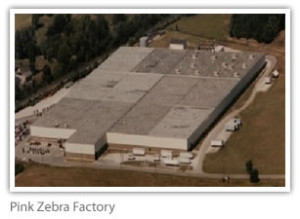 Tom and Kelly want to give back through the success of Pink Zebra. They have chosen to support and provide aid to single moms all over the country. HEROES which stands for: Helping,Encouraging, Rewarding & Obtaining Education for Single moms is Pink Zebra's charity. Single moms* instill values in kids, earn the money, pay the bills, help with homework, cook, clean, go to school – you name it – single moms do it. Many of these moms need extra help, but never ask for it. Pink Zebra is proud to support this need all over the United States helping pay for daycare so they can pursue their dreams with one less thing to worry about. Pink Zebra loves to party and so do our consultants, so whenever a consultant holds a qualifying party; Pink Zebra will donate money to support the single mom's cause. No matter where you live, each one of the consultants, hosts and customers who hold a party will be part of the HEROES cause.

"Our goal is to pay for 1,000,000 days of daycare over the next 10 years and truly change lives."
Our best wishes,
Tom & Kelly Gaines
Founders Pink Zebra